Can you trust the Property Information Form?
In September 2019 Cunningtons wrote a post (My Seller Lied To Me!) explaining the consequences of misrepresentation when selling property, particularly when it comes to the seller's Property Information Form TA6.
As buying a home is often the most expensive purchase most of us make, it's important to get things right when you are buying a house. You may expect someone who's selling a property to know a lot about their house when they put it on the market, and to tell the truth to anyone who's thinking of buying it.
What is the Seller's Property Information Form?
To encourage a true and constructive exchange of this information, the Seller's Property Information Form (otherwise known as the TA6) was introduced by the Law Society. The form covers quite extensively most of the issues that could be cause for concern with a property purchase. But it is NOT a legally binding document, as it says in the small print at the end:
It should come as no surprise to find out that sometimes a seller does not accurately complete their Property Information Form – and not always deliberately – misleading in a potential purchase. It is a surprise, though, when a seller finds that lying on a property information form is not breaking the law!
Comments from disappointed buyers
Our post has received many comments, many of them frustrated at issues that buyers believed the purchase process should have brought up.
Cunningtons are Property solicitors, and part of what we do is Conveyancing. However, our misrepresentation post has encouraged people to contact our Civil Litigation department about Property disputes, as the conveyancing has been done and they are now, in law, owners of their new property.
What is abundantly clear from the comments is that many of the issues could have been dealt with before completion – and even before exchange – with a little extra work by the buyer. And though the Law does protect them, it's easier to deal with these issues before purchase!
How do I avoid property misrepresentation when I'm buying?
There are a number of constructive guides to help you with the process of buying a house, including Cunningtons' own guide to buying. And it's worth taking the time to make sure you are as informed as possible. Read all the documents and forms, ask questions if you're not sure, and get written answers. 
As top buying agent Henry Pryor told us:
"… people seem to approach buying a house with as much care as they might when buying a takeaway sandwich. I always document what I'm told and double-check it so that if in due course there is a problem then one has a paper trail that points to who might have made the mistake."

Henry Pryor
Caveat emptor – buyer beware – even though it's a phrase in a dead language, is very much a live issue today.
Here are the 7 issues that drove home buyers to want to make a claim
1: Claims made in marketing materials
It should come as no surprise to you that marketing does not always tell the truth. So when the estate agent's details of a property you are interested in say it is 'freehold' or 'share of freehold', you should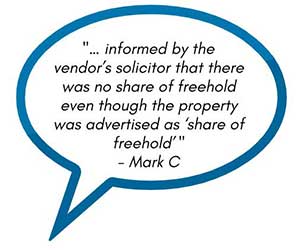 check that this is correct.
You can do this for free by visiting the Land Registry, or it might cost £3 for a printed copy. And if there's any confusion, speak to your conveyancing solicitor as you progress toward exchange.
You should never rely on any information in a glossy brochure about amenities, it is there to inspire your interest only.
If you are sufficiently interested to move forward with a purchase, you should request written confirmation of any services, and ask your conveyancing solicitor to check the wording before moving on.
2: Planning permissions
There were a number of comments where a buyer had assumed that planning permission had been granted for extensions and other building works. Assumptions can be costly, and checking is easy. Check for free at https://www.gov.uk/search-register-planning-decisions, and contact the specific local council if you are still unsure.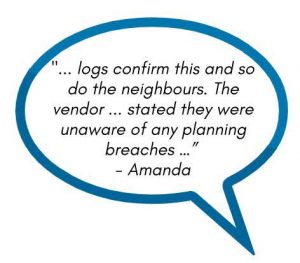 Any and all extensive building work should have been signed off and have full planning permission. That phone call to the council costs nothing – and can save heartache and expense.
You can also check the council tax band, which can reassure you that a property is correctly registered as a private residence.
It is also important to check that there are no upcoming planning applications in your area that would diminish enjoyment of your new home; this includes noisy building work on your neighbours' homes as well as large housing developments nearby that would increase noise and traffic levels during and after completion.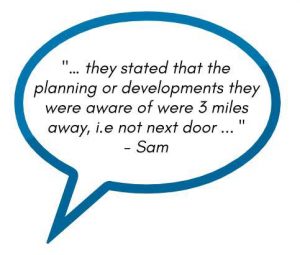 Once again, checking with the local council is important and inexpensive.
Your conveyancing solicitor can also carry out a Planning search if you request this which will give a wealth of local information about planning applications, as well as crime rate, schools, medical facilities, and other issues.
3: Flood risks and historical floods
Flooding is both one of the most harrowing things that can occur with your new home, and it is also one of the easiest issues to predict before sale. When you are completing your Property Information Form prior to putting your home on the market, you would obviously be keen to downplay any flood problems.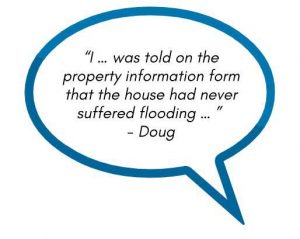 However, if you check https://flood-warning-information.service.gov.uk/long-term-flood-risk you can ascertain the potential of any property to flood. The service is free.
You can easily check the height of a property above sea level, if you are taking a more long-term view.
You can also check the Flood Risk For Planning map: https://flood-map-for-planning.service.gov.uk/, for more reassurance.
4: Electrics, gas, water, sewers, boilers and phone coverage
Flooding can also come from burst pipes and poor workmanship within a property. If you have any concerns about this, you can stipulate it when you are ordering your survey, or pay a plumber to come and have a look.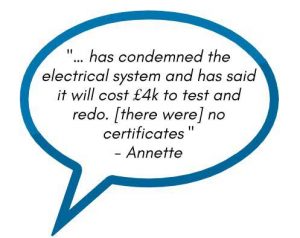 The same goes for electrics – if you have concerns, you should check the electrical supply before exchanging on a property. You can order a safety check, as if you were a landlord, or get an electrician to check. Look at the existing systems, especially if it looks updated recently. This is particularly important if you are buying an older property.
Another issue we have found is the condition of the boiler – it can be a good idea to ask for a demonstration of it functioning. Ask the vendor to run it for a few minutes to verify that it heats up properly. If the house has oil-fired heating it is also important to check the tank and supply lines as clearing heating oil spills is very costly and disruptive.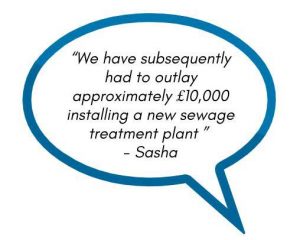 The most expensive utility on a property would be a septic tank. If you are considering buying a property that uses a septic tank, it might be a good idea to have a separate survey undertaken. You should also find out the date it was last emptied.
And all appliances and fixtures should have their documentation, particularly something as expensive and important as boilers and septic tanks.
Phone coverage can be another bugbear, and just looking at the phone company's coverage map is often not enough. To verify the mobile phone signal, you have to:
ask the owner,
ask the neighbours, or
try it yourself.
5: Pest infestations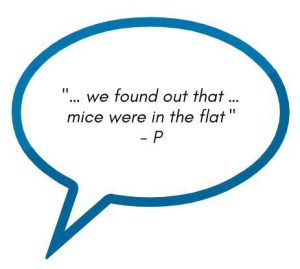 It is difficult to detect a pest infestation without checking through a house yourself, as it is not a question on the TA6.
Although if there has been a serious issue it could well have been reported to the local council – so this is another item to put on your list of questions to them.
6: Japanese knotweed
An unwanted guest that we surprisingly had no comments about was the famously invasive Japanese knotweed. The TA6 does have a question for sellers to complete on this issue but you should bear in mind most sellers are not horticulturalists and may not recognise it, and so any answer is going only to be based upon whether they have had a problem.
This is something you should be asking your surveyor to check, not only on the property itself, but neighbouring gardens too. Another question to ask the neighbours.
7: Invasive tree roots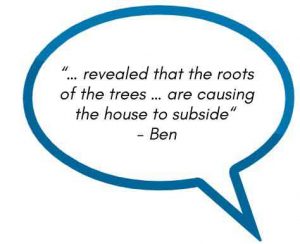 Not quite as foreign as Japanese knotweed, but just as invasive, tree roots in the wrong place can cause huge problems with drainage and subsidence.
You should make it clear in the instructions to your surveyor that these need to be checked, if you have concerns.
Otherwise, if you think there is a problem, ask a local builder or a tree surgeon to see if there is a problem.
Ways of preventing misrepresentation
Ask The Land Registry
You can find out a good deal about property boundaries and ownership at The Land Registry website. This is where you go to get basic information about your proposed purchase – and it's not expensive.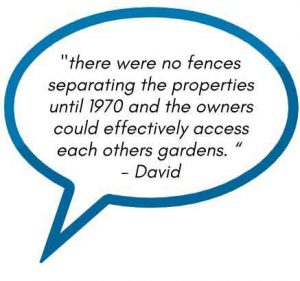 If you are relying on extra space that you assume is part of the property, such as a parking space and access, make sure it's part of the plot as stipulated in the property's Land Registry entry.
Ask your conveyancing solicitor to check too, as they will not necessarily know there's an issue unless you tell them. If you are not sent the plan to check, you should ask for it, and make it clear if there's any land you think is included which is missing from the plans.
Check the neighbourhood
There's a lot of information to be gained by walking around the local area at different times of day. Can you see anything that makes you feel nervous about your prospective purchase? Are there noisy roads? You can also spot things that might make you concerned about flooding or development, without having to spend any time online.
You can see if there are the amenities you need, and get a feel for the area – something that is difficult to achieve using the Internet. Are there large open spaces which might be developed and change the nature of the area? Again, a Planning search can provide information on current applications.
Ask the neighbours
Unless the neighbours have been specifically asked not to speak to any potential buyers by the existing owners, they are a potential mine of information.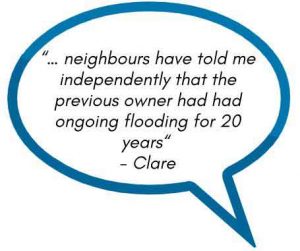 They live in the area, they probably know the vendors, and they will probably be keen to be helpful to anyone who is thinking of becoming their new neighbour.
Asking the neighbours can be particularly useful if you are thinking of buying a newbuild property in a development – as all the houses are probably built to the same standard, you can have advance warning of anything to look out for.
And, of course, another huge benefit of asking the neighbours is that you get a chance to introduce yourself to people who could potentially become YOUR neighbours.
Order a full buildings survey
If you're buying a separate survey, there is little point unless you buy a full buildings survey. It may save you a lot of money, and even allow you to negotiate a cheaper price if you are forewarned of any issues. However, when you order a survey make sure you understand the scope of the work to be undertaken.
If you are assured of anything verbally, make sure you also get it in writing, and mention it to your surveyor if it needs physically checking.
Buyer beware indeed!
It might be helpful to read all the comments on My Seller Lied To Me! to get an idea of what can go wrong – and take them into consideration.
As Charlie H posted in a refreshingly positive comment:
"I just wanted to say thank you for this very informative blog of some very sad events that occur when sellers don't complete the TA6 honestly. And of course how important it is to understand caveat emptor. Being aware of all the 'tricks' that may be pulled ensures being forewarned to be forearmed … "

Charlie H
As you can see, there's a lot you can do yourself to make sure you spend time talking to our Conveyancing department instead of our Civil Litigation team.
Questions people ask us about Property Information Forms and misrepresentation
> What is property misrepresentation and what are property misrepresentation claims?
There is no specific definition of this but broadly this could be described as a claim which arises by reason of a misrepresentation occurring during a property transaction.
> How does misrepresentation in property transactions happen?
If a seller says something about the property you are buying which is not true, then a claim for misrepresentation can arise, but this will depend on the terms of the contract.
> The seller has lied on the property information form but I haven't exchanged contracts, what should I do?
You should consider asking for the seller to clarify the position, remedy the defect or problem or perhaps negotiate the purchase price.
> What should a seller disclose when selling their property?
The seller does not have to disclose anything but if they do not, then a buyer might decide not to take the risk of buying the property. Normally a seller will fill out a property information form. For residential purchases, the Law Society published a standard property information form for this purpose, called a TA6 or a TA7.
---